When the developers of the Hite Radio and T.V. property asked if they could donate the Hite sign to us, we said yes almost immediately. We didn't want this South End icon lost to a scrap heap.
We had a problem though: the sign measures approximately 8 feet tall by 11 feet wide and weighs 600 pounds! Other than the building that we own and maintain, this is probably the largest and heaviest item in our care.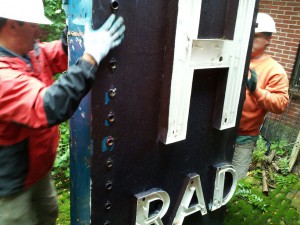 Where were we going to store it? And how were we going to get it onto our property?
Luckily for us, the sign was constructed with three vertical seams. The two (very patient and bemused) delivery men separated the pieces to make it easier to carry and deposited them in our back garden.  We attracted a small crowd during this hour and a half long process.
The sign will eventually be moved inside to our collections storage area. We're hoping that perhaps a business or large residence might borrow the sign from us and use it as a type of art installation. It's a really great piece of South End history.