by Faye Charpentier, SEHS intern
The South End Historical Society's spring fundraising event is quickly approaching! The South End Soiree will be held on May 10 at the Benjamin Franklin Institute of Technology. Incorporating history with dinner, dancing, and carnival-themed fun, the 2014 Soiree celebrates the history of the American carnival. Through this exciting event, attendees support historic preservation and education in Boston's South End while experiencing the history and legacy of carnivals in the United States. Continue preparing for the SouthEnd Soiree's carnival theme by learning more about carnival history!
Our previous blog post discussed the American traveling carnival's roots in the 1893 Chicago World's Fair. At the Fair, innovative uses of technology and new technologies proved crucial to the carnival's subsequent popularity. As transportation and electrification continued advancing at the turn of the century, carnivals traveled further and even facilitated the birth of America's first amusement parks. In Greater Boston, this trend materialized through amusement parks like Newton's Norumbega Park and Revere Beach's Wonderland.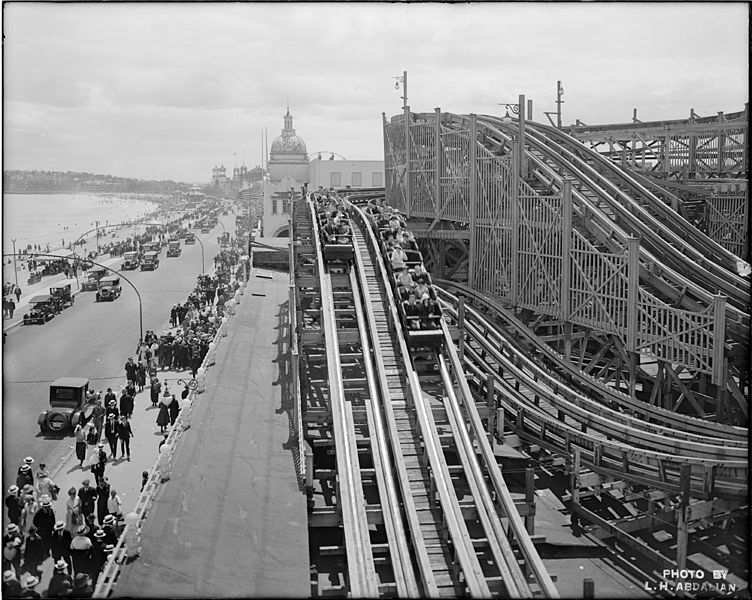 New and improving modes of transportation enabled carnivals to travel throughout the United States. A major aspect of the carnival's spectacle is that all of the carnival attractions, games, and rides are miraculously portable. Early carnivals traveled by horse and wagon, but these were soon replaced by railway cars. Railroads proved more practical for hauling large amounts of people and attractions from town to town. Traveling by rail, carnivals could even increase the size and number of their touring attractions. With the advent of the automobile, however, carnivals commonly travelled with trucks and then tractor trailers. That said, railways played a crucial role in the shift from traveling carnivals to stationary amusement parks.
As many Americans gained more leisure time around the turn of the century, American railways hoped to attract business from this demographic of working and middle class families. To encourage city dwellers to use public transportation, railway, trolley, and subway companies across the country began constructing amusement parks just outside major cities. These efforts were successful, as people flocked towards the affordable recreation the parks provided. By 1920, there were over 1500 amusement parks throughout the United States! Early amusement parks were modeled after and closely mirrored traveling carnivals, but on a much larger scale. Incorporating mechanical and electric rides, midway-style layouts, iconic carnival foods, and rows of games, early amusement parks were essentially massive, stationary carnivals. Because they were stationary, amusement parks utilized electricity and technology to a degree carnivals could not. Rides grew increasingly bigger and elaborate, attractive huge crowds of Americans seeking new pleasures and thrills.
Although the best-known early parks were situated at Coney Island, Greater Boston had its share of railway-constructed amusement parks, some of which survived past the 1960s. One such park was Norumbega Park, located at Auburndale-on-the-Charles in Newton. The park opened in 1897, constructed by the Commonwealth Avenue Street Railway Company to encourage recreational trolley use. Norumbega Park's earliest attractions included a carousel, zoo, food vendors in addition to a restaurant, and an open-air theater — reminiscent of carnival attractions of the time. As the park continued growing in the 20th century, so did its attractions. The outdoor theater was replaced by an indoor one featuring vaudeville shows, live performances, and motion pictures in 1905. This theater was eventually replaced by the Totem Pole Ballroom, a venue graced by musicians including Benny Goodman and Frank Sinatra! By the 1920s, the park boasted quintessential amusement park rides like bumper cars, roller coasters, and a Ferris Wheel. The park closed its doors in 1963, due to a decrease in popularity in the post-war era.
Have you ever wondered by the Blue Line has a station called Wonderland? It refers to Wonderland Amusement Park, which was located at Revere Beach. In the 1870s, the Boston, Revere Beach, and Lynn Railroad established tracks to bring Bostonians to Revere Beach along the North Shore. This railbed is the basis for the contemporary Blue Line. After the rail line to the area was established, Revere Beach increased in popularity and amusement park attractions were constructed. The Beach opened a massive carousel, featuring three rows of carousel horses, in 1903. Wonderland Amusement Park, namesake of the Blue Line station, opened at Revere Beach in 1906. Although the park closed in 1911 due to management issues, the park was extremely popular during its short run. Amusement park attractions continued at Revere Beach throughout the first half of the 20th century, featuring funhouses, rollercoasters, carnival-style games, and even a large Ferris Wheel.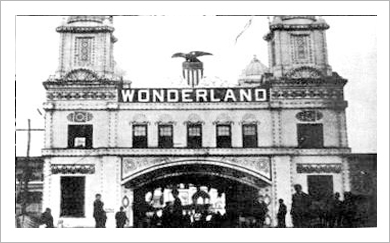 While many early amusement parks are now defunct, their memories are being kept alive by people who frequented these attractions during their childhoods. For instance, Paragon Park, formerly located in Hull, Massachusetts, has a devoted fanbase that keeps the park's memory alive online, Do you have cherished memories of carnivals and amusement parks from your childhood? Relive the excitement at the carnival-themed South End Soiree on May 10! Be sure to check the South End Historical Society's social media for more carnival-related history in the weeks leading up to the Soiree. We hope to see you there!
For more information on Norumbega Park and Revere Beach visit:
Norumbega Park
Revere Beach
Paragon Park Memories